Find out why you should choose ME Clinic!
Take a closer look at ME Clinic. This tour will guide you through the various services that the clinic provides to enhance your look and the way you feel about yourself.
M.E. Clinic – Berjaya Times Square
LG-18, Lower Ground Floor
Berjaya Times Square,
No.1, Jalan Imbi
55100 Kuala Lumpur, Malaysia

M.E. Clinic – Bangsar
No. 178, Jalan Maarof,
Wilayah Persekutuan,
59000, Kuala Lumpur,
Malaysia.
Opening Hour
Mon-Sat
Sunday

10am-7pm
10am-2pm

JOHOR BRANCH:
11, Jln Sutera Tanjung 8/3, Taman Sutera Utama,
81300 Skudai, Johor
KOTA KINABALU, SABAH BRANCH:
Lot 16, GF Kolam Centre,
Phase 1, Jalan Lintas,
88300, Kota Kinabalu, Sabah

Our latest offer and news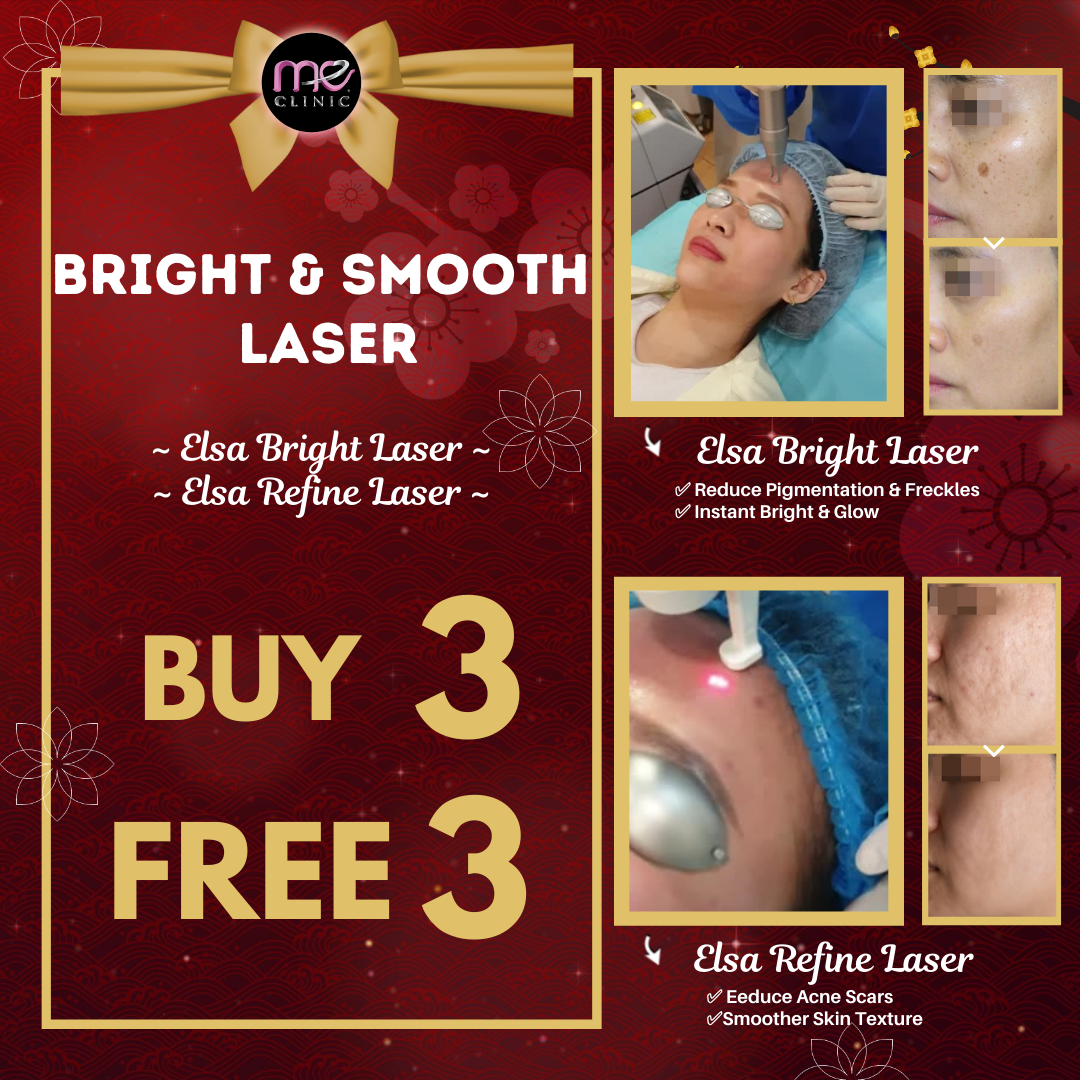 Chinese New Year 2022 Offer – Aesthetic Skin Laser Treatment
𝗧𝗼 𝗮𝗹𝗹 𝗟𝗲𝗻𝗴 𝗟𝘂𝗶 & 𝗟𝗲𝗻𝗴 𝗖𝗵𝗮𝗶, 𝘁𝗵𝗶𝘀 𝘆𝗲𝗮𝗿 𝘄𝗲 𝗿𝗲𝗮𝗹𝗹𝘆 𝗸𝗮𝘀𝗶 𝘆𝗼𝘂 𝗕𝗘𝗔𝗨𝗧𝗜𝗙𝗨𝗟 𝗮𝗻𝗱 𝗛𝗔𝗡𝗗𝗦𝗢𝗠𝗘 𝗯𝘆 𝗴𝗶𝘃𝗶𝗻𝗴 𝘆𝗼𝘂 𝗮 𝘃𝗲𝗿𝘆 𝗚𝗼𝗼𝗱 𝗦𝗮𝘃𝗶𝗻𝗴𝘀!! 𝘌𝘭𝘴𝘢 𝘉𝘳𝘪𝘨𝘩𝘵 𝘓𝘢𝘴𝘦𝘳 𝘛𝘳𝘦𝘢𝘵𝘮𝘦𝘯𝘵 Sign up 𝟯 sessions, get another 𝟯 session for 𝙁𝙍𝙀𝙀! CNY Offer is valid until 31st January 2022. There is no expiry date upon signing. Sharing is not […]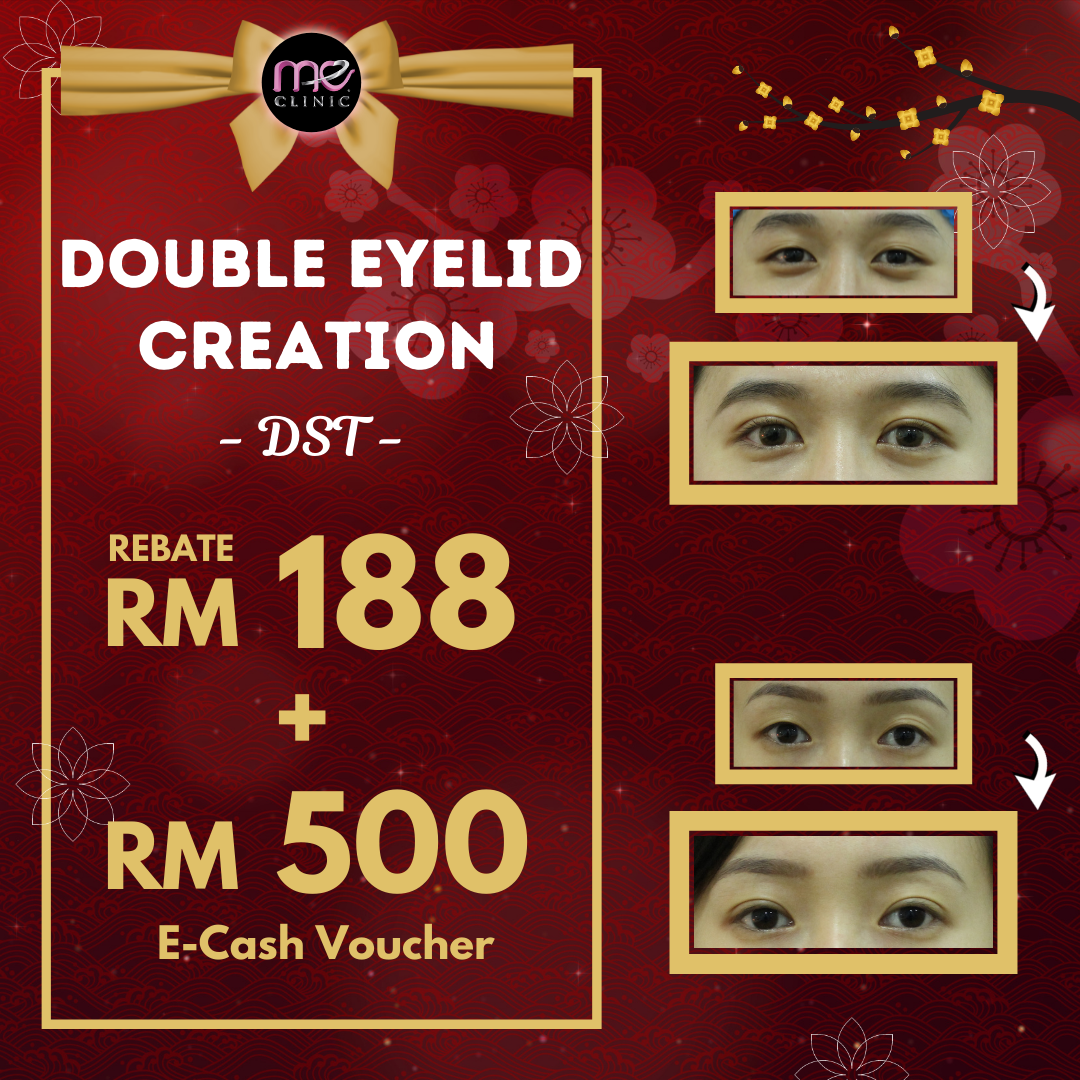 Chinese New Year 2022 Offer – Double Eyelid Creation | DST Technique
𝗧𝗼 𝗮𝗹𝗹 𝗟𝗲𝗻𝗴 𝗟𝘂𝗶 & 𝗟𝗲𝗻𝗴 𝗖𝗵𝗮𝗶, 𝘁𝗵𝗶𝘀 𝘆𝗲𝗮𝗿 𝘄𝗲 𝗿𝗲𝗮𝗹𝗹𝘆 𝗸𝗮𝘀𝗶 𝘆𝗼𝘂 𝗕𝗘𝗔𝗨𝗧𝗜𝗙𝗨𝗟 𝗮𝗻𝗱 𝗛𝗔𝗡𝗗𝗦𝗢𝗠𝗘 𝗯𝘆 𝗴𝗶𝘃𝗶𝗻𝗴 𝘆𝗼𝘂 𝗮 𝘃𝗲𝗿𝘆 𝗚𝗼𝗼𝗱 𝗦𝗮𝘃𝗶𝗻𝗴𝘀!! Double Eyelid Creation- (DST) Get an Instant Rebate of RM188 to get a natural-looking double eyelid! No Surgery (DST Technique) Fast Recovery Safe 30 Minutes Procedure Scarless RM500 E-Cash Voucher (Applicable upon […]

Request a Call Back
We're happy to answer any questions you may have...