Find out why you should choose ME Clinic!
Take a closer look at ME Clinic. This tour will guide you through the various services that the clinic provides to enhance your look and the way you feel about yourself.
M.E. Clinic – Berjaya Times Square
LG-18, Lower Ground Floor
Berjaya Times Square,
No.1, Jalan Imbi
55100 Kuala Lumpur, Malaysia

Opening Hour
Mon-Sat
Sunday

10am-7pm
10am-2pm

JOHOR BRANCH:
11, Jln Sutera Tanjung 8/3, Taman Sutera Utama,
81300 Skudai, Johor
KOTA KINABALU, SABAH BRANCH:
Lot 16, GF Kolam Centre,
Phase 1, Jalan Lintas,
88300, Kota Kinabalu, Sabah

Our latest offer and news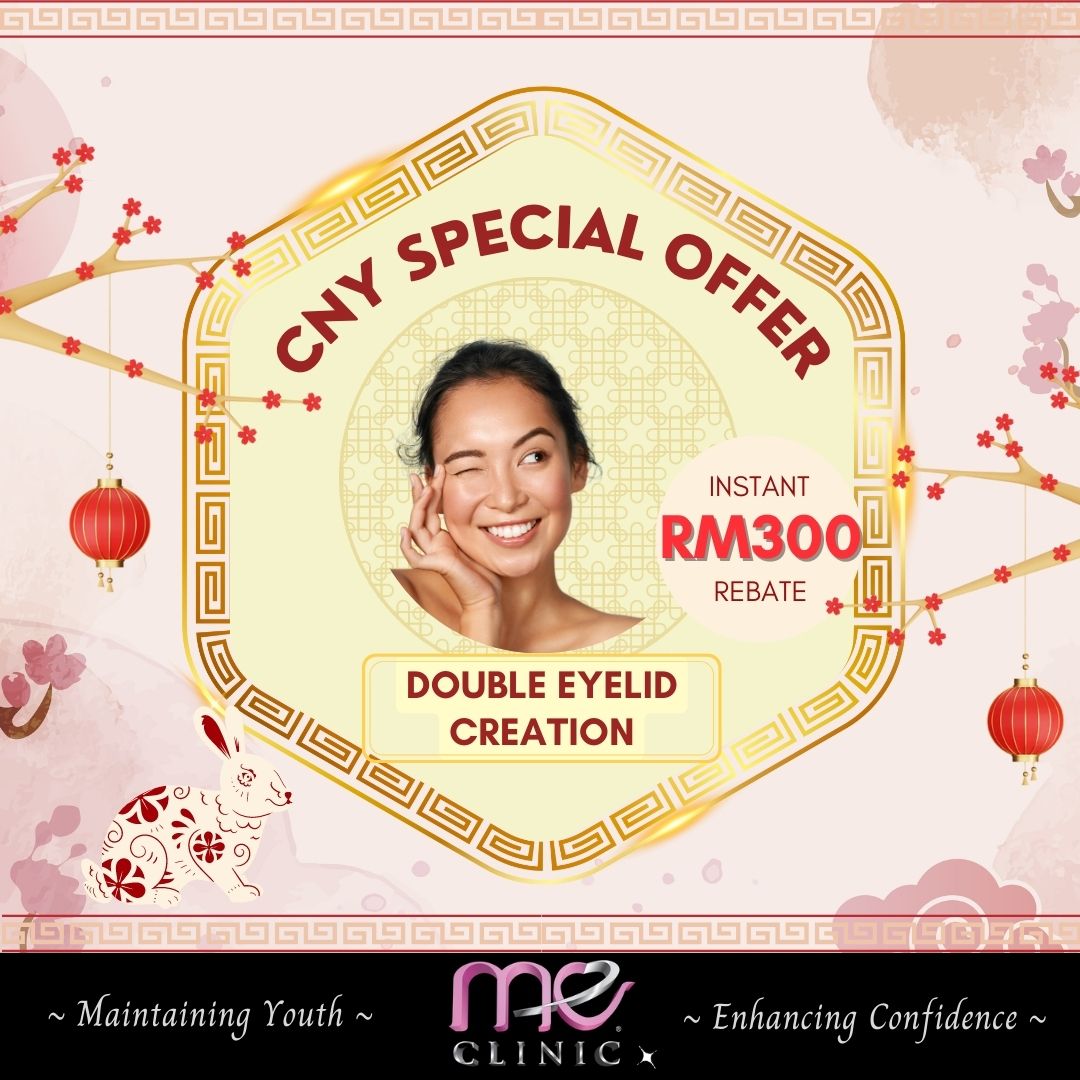 Chinese New Year 2023 Offer
𝗣𝗿𝗲𝗽𝗮𝗿𝗶𝗻𝗴 𝘁𝗼 𝗚𝗹𝗮𝗺 & 𝗦𝗵𝗶𝗻𝗲 𝗳𝗼𝗿 𝘁𝗵𝗲 𝗖𝗵𝗶𝗻𝗲𝘀𝗲 𝗡𝗲𝘄 𝗬𝗲𝗮𝗿? 💃🕺 𝗗𝗶𝘀𝗰𝗼𝘃𝗲𝗿 𝘁𝗵𝗲 𝗛𝗨𝗔𝗧 & 𝗢𝗡𝗚 𝗠𝗘 𝗗𝗲𝗮𝗹𝘀 𝘁𝗼 𝗴𝗶𝘃𝗲 𝘆𝗼𝘂 𝘁𝗵𝗮𝘁 𝗚𝗹𝗮𝗺𝗼𝘂𝗿𝗼𝘂𝘀 𝗟𝗼𝗼𝗸! -𝙔𝙤𝙪 𝙬𝙞𝙣 𝙡𝙞𝙖𝙤 𝙡𝙤𝙧!🤭- 👁Double Eyelid Creation- (DST) 😍 Get an Instant Rebate of RM300 to get a natural-looking double eyelid! ✅No Surgery (DST Technique) ✅Fast Recovery ✅Safe ✅30 Minutes Procedure […]

Our team of doctors
ME Clinic is served by a team of qualified, dedicated and talented doctors who believe in educating and empowering our clients to select those procedures which meet their aesthetic goals while creating the best possible aesthetic outcome with safety and hygiene as the utmost priority.
Request a Call Back
We're happy to answer any questions you may have...